Shopping
---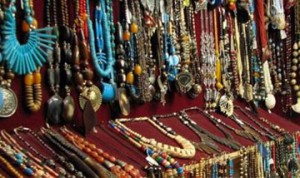 Welcome to the exotic hub of shopping delight. Away from the world of corporates and reckless industrialization you can experience handicrafts crafted by human warmth and skill. Products which have evolved through years in special family lines. Welcome to the most important zone in the world for cutting precious and semiprecious diamonds and stones you are in for some mega glitz..
Beauty lives here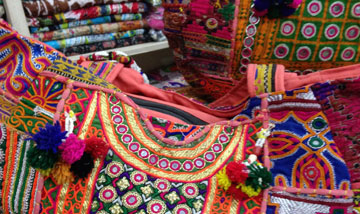 The local 'Kundan', style jewellery is more than beautiful. The exotic blue pottery, block printed textiles of Sanganer and Bagru, tie & dye fabrics, Mojari- (the local shoe), beautiful stone carvings, the batik painting, sandal wood carving items would bedazzle you. The main markets are along Johari Bazar, Bapu Bazar, Nehru Bazar, Chaura Rasta, Tripolia Bazar and M.I. Road. Entire streets were earmarked for artisans and traders.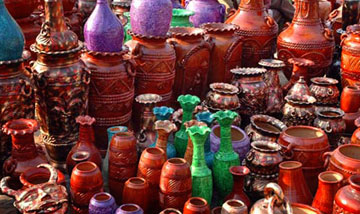 Exotic Ornaments, mesmerizing jewels and breath taking diamonds find home in Johari Bazaar. Jaipur is home to Diamonds, Topaz, Emeralds, Brass work etc. Cutting and polishing of stones done through skilled hands using best of both worlds(machine and human) gives the products a unque sheen and shine.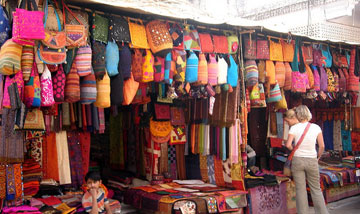 Antiques and pseudo-antiques are found in shops near Hawa Mahal at throw away prices. The famous Jaipuri quilts, which are almost weightless and give a feel which words cannot be described. Jaipur is known for its textiles. Sanganeri and Bagru block prints are the fashion designer's fantasy these days. The Bandhej (tie and dye) print is special. Without mentioning the stone and marble carving industry Jaipurs shopping enigma is incomplete. The stone used is either procured from within Jaipur or from the marble mines of the mystic Makrana, the quarry that provided all the marble stone used in the building of the Taj Mahal.
What and where to buy
Mirza Ismial Road (MI. Road):variety of goods from jewelery and brass work to textiles, to
blue pottery, to woodwork, etc, Your every need has an outlet.
Ramganj Bazar for shoes or jutis as they are known
Kishanpol Bazar for tie and dye textiles
Achrol House, Subhash Chowk for carpets
Khajano Ka Rasta for marble carving
Maniharon Ka Rasta (Tripolia Bazar) for lac bangles and other items
Sanganer village for block printing, hand-made paper and blue pottery.
---